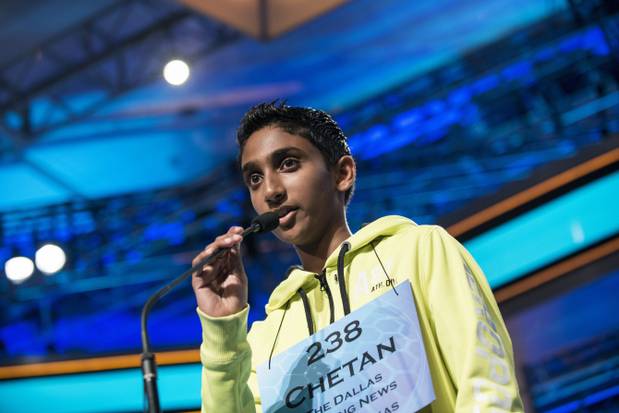 Plano eighth-grader Chetan Reddy fell short of his dream of becoming the nation's top speller, but he did achieve his goal of being among the top 10.
Chetan, 13, tripped up on "kaburi" (a land crab) Thursday night and was eliminated from the 70th annual Scripps National Spelling Bee. In his best performance in multiple trips to the bee, the teen survived to the 10th round and tied for seventh place. "It's a word I probably should have known," a disappointed Chetan said after the competition. "I'm happy it's over and I got to a new stage."
He got there by correctly spelling words like "capitatim" (a certain amount per head, as in a tax) and "graminivorous" (feeding on grass or seeds of grass).
The top prize went to Arvind Mahankali, 13, of New York, who correctly spelled "knaidel" (a small mass of leavened dough).
Contestants fidgeted nervously as the bee's pronouncer and judges put them through the last of a series of written tests and onstage competitions.
By Thursday, Chetan had aced two series of computer tests — which for the first time this year included vocabulary along with spelling — and made it through the ninth round of live competition, spelling "tournados" (a beef dish) and "auncel" (a balance for weighing) correctly.
It was the furthest Chetan had made it in four trips to the national bee. Last year, he tied for 22nd place.
His steely demeanor stood out among his fellow competitors.
While other students nervously spelled out words onto their forearms with their fingers, Chetan stood nearly motionless, one hand clasping the other forearm.
Methodically, he asked pronouncer Dr. Jacques Bailly for the definition of a word, its language of origin and alternative pronunciations before he ventured to spell.
Chetan said he decided not to pore over word lists during the week of the bee. "I don't like to study. I like to keep my mind fresh for the next day," Chetan said after surviving the semifinals.
He also wore the same neon yellow jacket he had on his first successful day, his one concession to competition ritual.
It's his lucky jacket, Chetan said.
"I like the color. And I like to think it intimidates some people," he said.
Chetan, 13, was among five spellers making a fourth trip to the bee. All five advanced to the final championship round.
This was Chetan's final chance at the bee's big prize: a $30,000 cash award, books and other honors. The competition is open only to students in the eighth grade and younger.
Chetan earned his ranking in part because of his performance on two written tests, both of which included multiple-choice vocabulary questions.
Bee executive director Paige Kimble said the change was meant to reinforce the competition's commitment to helping students appreciate and learn language in its entirety.
In a biographical video prepared by ESPN, which aired the bee live Thursday, Chetan said his favorite word is "kavya," which means poetry.
He likes basketball and cricket, he told ESPN, and his favorite athlete is Dallas Mavericks forward Dirk Nowitzki, who Chetan said had a good "work ethic."
On his visit to the nation's capital, Chetan said he wanted to win, but "also to have fun with my friends."