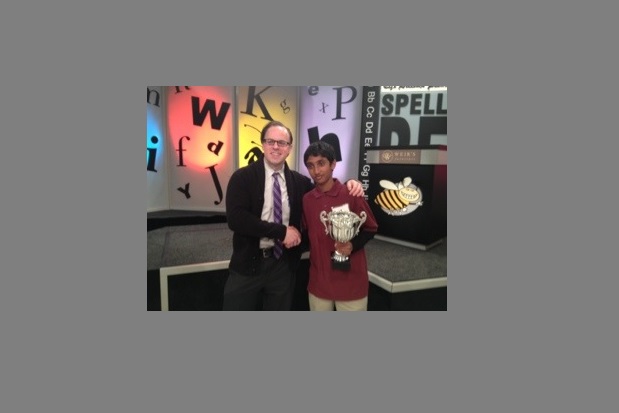 The winning word was myocarditis — inflammation of the heart muscle.
Plano middle-schooler Chetan Reddy spelled myocarditis correctly to win his fourth consecutive Dallas Morning News Regional Spelling Bee Saturday afternoon. The reigning champion prevailed through more than eight rounds, spelling words of more complexity along the way.
"I like the thrill of the competition," Chetan, 13, said of being up on stage alone in the bee.
Chetan was presented with a trophy Saturday and also won a paid trip as North Texas' speller in the the Scripps National Spelling Bee in Washington, D.C. from May 26-June 1.
Chetan, an eighth-grader at Plano ISD's Rice Middle School, made it to the semifinals of the national competition the last two years. Last year, he placed 22nd — slipping on the word soboliferous, an adjective meaning "producing shoots or suckers."
As an eighth-grader, this is Chetan's last shot at the national championship spelling bee title — and he wants it bad.
"I'm going to study harder and really study the dictionary because that's where all the words they will use come from," Chetan said of his strategy.
Chetan's father, Vijay Reddy, said his son is self-motivated and works hard.
"I've been very proud of him and his hard work," Reddy said of his son who began competing in spelling bees when he was 4. "I've seen him grow so much over the years with the obvious knowledge of words and with confidence and preparation."
At Rice, Chetan is team captain of the school's Whiz Quiz, a Jeopardy-style district competition made up of teams of seven. He also enjoys playing basketball and cricket. But spelling is where he invests most of his time.
"People sort of dismiss the spelling bee as just a spelling competition, but it's so much more. You have to put in a lot more work in order to beat the other person," he said.
It's been a long journey for Chetan and all of the other spellers.
Spelling bees began nationwide in the fall with 11 million children in grades four through eight. By the end of this week, Chetan will be joined by 280 students who made it past regionals to advance to the national competition.
Checkout the video here
Courtesy: http://thescoopblog.dallasnews.com/2013/03/regional-spelling-bee-preparations-underway.html/